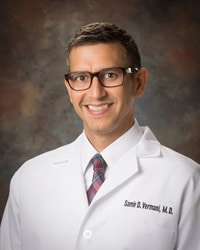 Samir Vermani, M.D.
Dr. Vermani has completed extensive research through his career with multiple publications in medical journals and medical book chapters. During Dr. Vermani's residency he even worked as a medical journalist for the ABC News Medical Unit at ABC World News Headquarters in New York City and completed specialized training in health policy in our nation's capital.While at the University of Louisville, Dr. Vermani received specialized training in gastrointestinal motility disorders, hepatology (liver disease) and nutrition. He received advanced therapeutic endoscopy training as well. Samir is a native of Ashland, Kentucky but he and his family now call this area home. He enjoys watching college and professional sports, playing golf and tennis, and running with his chocolate lab Arli.
Education
Undergrad Education and Degree – University of Louisville, BA Political Science
Medical School – University of Louisville
Residency – The George Washington University 
Fellowship – University of Louisville  
Professional Society Affiliations
AGA, ACG
Board Certifications
Gastroenterology and Internal Medicine
Special Procedures
ERCP Trained
425 Centre View Blvd
Crestview Hills, KY 41017
By Phone: (859) 341-3575
By Fax: (859) 341-5701
Toll Free: (800) 448-3575
After hours calls to (859) 341-3575, will be taken by the answering service who will direct URGENT messages to the "On Call" MD or ARNP.
Billing Department: (859) 655-4470 
Scheduling Appointment: (859) 655-4480
Procedure: (859) 655-4490
Medical Records: (859) 655-4553
Communicators: (859) 655-4560