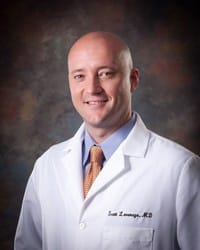 A native of Dayton, Ohio, Dr. Leverage completed his medical training at Wright State University (WSU) and the University of Kentucky (UK). He obtained his medical degree in 2005 at WSU, finished his Internal Medicine Internship and Residency in 2008 at UK, completed a Chief Residency in Internal Medicine in 2009 at UK, and finished a Gastrointestinal Fellowship in 2012 at UK.
Dr. Leverage is trained in ERCP (Endoscopic Retrograde Cholangiopancreatography), which is an innovative, non-surgical procedure that combines upper gastrointestinal (GI) endoscopy and X-rays to treat problems of the bile and pancreatic ducts.
Dr. Leverage is affiliated with St. Elizabeth Healthcare and HealthSouth Rehabilitation Hospital in Northern Kentucky.
Board certified by The American Board of Internal Medicine and The American Board of Gastroenterology, Dr. Leverage is also a member of the American Gastroenterology Association and the American College of Gastroenterology.