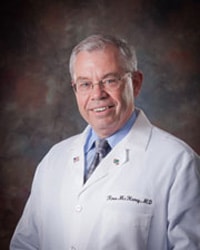 2013 Cincinnati Magazine Top Doctor
Dr Ross McHenry is a native of Cincinnati , Ohio . He and his family are presently residing in Northern Kentucky .
Dr McHenry obtained his medical degree at The University of Cincinnati in 1981.
In July 1986 after completing his internship, residency and fellowship at Indiana University Medical Center he joined the practice of Tri-State Gastroenterology Associates.
He is board certified by The American Board of Gastroenterology and the American Board of Internal Medicine.
Dr McHenry is affiliated with St Elizabeth Healthcare (formerly St Elizabeth Medical Centers and the St Luke Hospitals) and Health South Rehabilitation Hospital all located in Northern Kentucky .
Dr McHenry has served on many committees associated with Tri-State Digestive Disorder Center and served as President of Tri-State Gastroenterology, Associates from 2000-2009. He is a Lecturer at St. Elizabeth Healthcare and served on several committies at area hospitals and local communities including The Greater Cincinnati Health Improvement Collaborative. In 1992 he served as the President of the Medical Staff at St Luke Hospital.
His membership in professional societies includes The American Society of Gastrointestinal Endoscopy, American College of Physicians, American Medical Association, American Gastroenterological Association, Gastrointestinal Videoendoscopy Association of America and is a fellow of the American College of Gastroenterology.