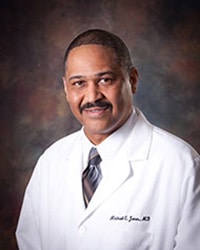 Michael E. Jones, M.D.
Vice President: Tristate Gastroenterology
Director of Clinical Research Tristate Gastroenterology 
Dr Jones is a native of Kansas City , Missouri . He and his family reside in Northern Kentucky.  ERCP trained.
Current of previous investigator for clinical trials in Crohn's disease, Ulcerative Colitis, Gastroparesis, GERD,  Irritable Bowel Syndrome ,Hepatitis, and precision medicine trials.  Has been Principal Investigator  for more than 30 Clinical Trials.
Education
Undergrad Education and Degree – Biological Sciences degree University of Missouri, Columbia, Missouri
Medical School – M.D. 1997  University of Missouri, Columbia Missouri
Residency – 1997-2000 University of Kentucky  A.B. Chandler Medical Center, Lexington, KY
Fellowship – 2000-2003 University of Kentucky A.B. Chandler Medical Center, Lexington, KY 
Honors/Awards
Named Top Doctor by Cincinnati Magazine: 2007, 2010 thru 2020
1998: Outstanding Intern Teacher  University of Kentucky Medical Center, Lexington, KY
1998:  Chief Resident's Outstanding Intern Award University of Kentucky Medical Center, Lexington, KY
1999:  Resident Research Award  University of Kentucky Medical Center, Lexington,KY
Boards or Committees
Board of Trustees St. Elizabeth Healthcare : Involved in several subcommittees including Quality and Patient Care, Governance, Strategic Planning, Compensation
Board Member  Boone County and Northern Kentucky District Health Department
Advisor University of Kentucky School of Medicine Northern Kentucky Branch
Advisor Next Gen Precision Medicine Advisory Board University of Missouri School of Medicine
Trustee Jefferson Club University of Missouri, Columbia, MO
Board certifications
Fellow American Gastroenterological Association 2011-present
Gastroenterology: 2003-Present maintaining maintenance of certification requirements
Internal Medicine: 2001
Professional Organizations:
American Gastroenterological Association (Fellow)
American College of Gastroenterology
American Society of Gastrointestinal Endoscopy
Crohn's and Colitis Foundation
American Medical Association
Kentucky Medical Association
Northern Kentucky Medical Association
Hobbies/Interests
Cooking, listening to music (Jazz and classical)
425 Centre View Blvd
Crestview Hills, KY 41017
By Phone: (859) 341-3575
By Fax: (859) 341-5701
Toll Free: (800) 448-3575
After hours calls to (859) 341-3575, will be taken by the answering service who will direct URGENT messages to the "On Call" MD or ARNP.
Billing Department: (859) 655-4470 
Scheduling Appointment: (859) 655-4480
Procedure: (859) 655-4490
Medical Records: (859) 655-4553
Communicators: (859) 655-4560