Karen L. Ruschman, ARNP-C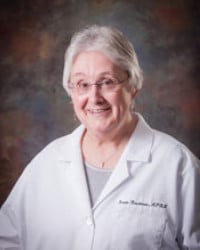 Karen Ruschman is a native Northern Kentucky. She still resides in Campbell County.
She received her Associates Degree in Nursing in 1981 and has been in active practice since then. She worked in Oncology for fifteen years as a staff nurse, unit charge nurse, assistant manager and manager. After receiving her nurse practitioner degree in 1996, she worked in family practice both in Campbell and Boone counties before starting at Tri-State Gastroenterology Associates in January 2001.
Karen has published articles as well as chapters in medical resource books on hepatitis, adult well care and family related issues. She received the Mary Lou Eilers Scholarship while undertaking her Associates Degree, the Bachelor in Science of Nursing Award for Recognition for Outstanding Leadership and Service, American Cancer Society Scholarship Recipient while undertaking her Masters Degree in Nursing at the University of Cincinnati and the Mildred S. Davenport Oncology Nursing Practice Award from the University of Cincinnati . A special honor is the donation of a substantial amount of funds to the Northern Kentucky University in her name for a "Karen Ruschman Scholarship" awarded to accomplished BSN student annually. She is a member of Sigma Theta Tau.
Karen, under the direction of the individual physicians, coordinates hepatitis C treatment. Education is a main focus to assist patients who chose to undergo treatment for their viral infection. Along with supportive staff, the patient and potential side effects are monitored.
She is affiliated with St Elizabeth Healthcare (formerly St Elizabeth Medical Centers and the St Luke Hospitals) and Health South Rehabilitation Center . She is involved with Quality Improvement for Holy Family Center which cares for aging Sisters of Divine Providence.
425 Centre View Blvd
Crestview Hills, KY 41017
By Phone: (859) 341-3575
By Fax: (859) 341-5701
Toll Free: (800) 448-3575
After hours calls to (859) 341-3575, will be taken by the answering service who will direct URGENT messages to the "On Call" MD or ARNP.
Billing Department: (859) 655-4470 
Scheduling Appointment: (859) 655-4480
Procedure: (859) 655-4490
Medical Records: (859) 655-4553
Communicators: (859) 655-4560