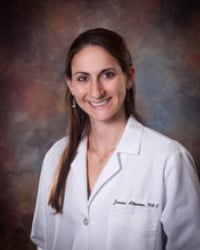 Jessica is a native to Northern Kentucky. She grew up in St. Joseph Parish in Crescent Springs, KY and is a Notre Dame Academy Alumni. She attended Clarion University of Pennsylvania where she received her Bachelor Degree in Science with a concentration in Biology, and played on the Women's Varsity Basketball team.
She furthered her education at Seton Hill University where she received a Master's in Physician Assistant Science. At Seton Hill she was the secretary for the Pennsylvania State Physician Assistant Student Society and completed her master thesis entitled "Interventions for Basal Cell Carcinoma of the Skin."
Jessica is nationally certified by the National Commission of Certification of Physician Assistants and licensed by the Kentucky State Medical Board. She is a member of the Kentucky Academy of Physician Assistants, American Academy of Physician Assistants and the American Gastroenterological Association.
Jessica is currently living in Northern Kentucky with her family and became a member of our Tri-State Gastroenterology Associates group in July 2011. She will be teaming up with our doctors and other midlevel providers to continue the compassionate, quality healthcare our practice has to offer.
425 Centre View Blvd
Crestview Hills, KY 41017
By Phone: (859) 341-3575
By Fax: (859) 341-5701
Toll Free: (800) 448-3575
After hours calls to (859) 341-3575, will be taken by the answering service who will direct URGENT messages to the "On Call" MD or ARNP.
Billing Department: (859) 655-4470 
Scheduling Appointment: (859) 655-4480
Procedure: (859) 655-4490
Medical Records: (859) 655-4553
Communicators: (859) 655-4560