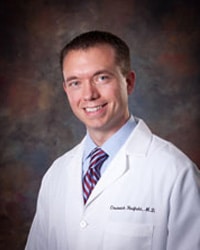 2013 Cincinnati Magazine Top Doctor
Dr. Hatfield is a native of Phelps, Kentucky. He resides in Hebron with his family.
He obtained his medical degree from the University of Louisville in 2005. He completed his Internal Medicine Internship and Residency in 2008 and in 2011 completed a Gastroenterology/Hepatology Fellowship. Dr. Hatfield devoted most of his final year of training performing Endoscopic Ultrasound (EUS) at two downtown Louisville medical centers.
Tri-State Gastroenterology Associates is the first practice in Northern Kentucky to offer this innovative, new EUS technology
Dr. Hatfield is affiliated with St. Elizabeth Healthcare (formerly St. Elizabeth Medical Centers and the St. Luke Hospitals) and HealthSouth Rehabilitation Hospital in Northern Kentucky.
He is Board certified by The American Board of Internal Medicine and The American Board of Gastroenterology.
Dr. Hatfield is a member of the American Medical Association, the American Gastroenterology Association, the American Society for Gastrointestinal Endoscopy, and the American College of Gastroenterology.
425 Centre View Blvd
Crestview Hills, KY 41017
By Phone: (859) 341-3575
By Fax: (859) 341-5701
Toll Free: (800) 448-3575
After hours calls to (859) 341-3575, will be taken by the answering service who will direct URGENT messages to the "On Call" MD or ARNP.
Billing Department: (859) 655-4470 
Scheduling Appointment: (859) 655-4480
Procedure: (859) 655-4490
Medical Records: (859) 655-4553
Communicators: (859) 655-4560